HVAC Air Quality | Nest Learning Thermostat
Increase Efficiency With Smart Thermostats

The Nest Learning Thermostat programs itself in a week and turns itself down when you're away. Nest helps you understand how your home uses energy so you can save more. Most people leave the house at one temperature and forget to change it. So Nest learns your schedule, programs itself and can be controlled from your phone. Teach it well and Nest can lower your heating and cooling bills up to 20%.
Nest Thermostat

Nest App

Auto Away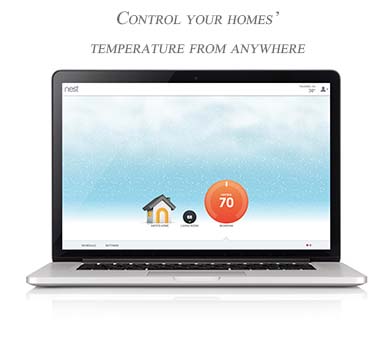 Savings
Only 10% of programmable thermostats are programmed to save energy, but thanks to learning, 99% of Nests have schedules that reflect their owner's lives. Nest saves the most when you teach it well: just turn the heat down at night or turn off the AC when you leave the house.
Auto-Schedule
Nest automatically programs itself in about a week. It creates a personalized schedule based on the temperature changes you've made and continually adapts to your changing life.
Auto-Away
About two hours after you've left the house, Nest will sense you've gone and automatically adjust the temperature to avoid heating or cooling an empty home.
Airwave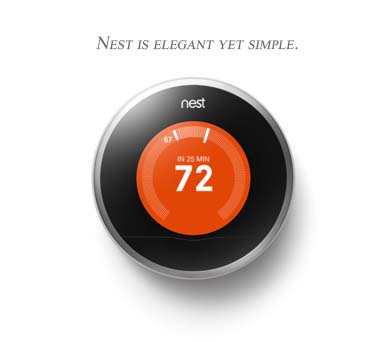 Airwave automatically turns off the AC a few minutes early, but keeps the fan running.
The air stays cool while your AC runs up to 30% less.
Energy History
You can make better decisions about your energy use if you know how and why it changes. Nest shows you exactly when your system was on and what impacts your bill the most.
Time to Temperature
Turning the temperature up higher doesn't heat the house any faster, so Nest helps you save by showing you how long it'll really take to reach the temperature you want.
The Leaf
Want to know if you're saving energy when you change the temp? The Nest Leaf appears when you turn Nest to a temperature that's energy efficient. It guides you in the right direction.