Hybrid Water Heaters, Heat Pump Water Heaters, Installations & Service
Hybrid Water Heater Installations and Repair.
Looking for an energy-efficient solution for hot water in your home? A heat pump water heater may be the answer. A heat pump operates similarly to a standard air conditioner or refrigerator, using electricity to move heat from one place to another rather than generating heat directly. This means it uses much less energy compared to traditional electric or gas water heaters. At A.J. LeBlanc Heating, we specialize in the installation and service of heat pump water heaters, also known as hybrid water heaters. Looking to upgrade from your old hot water tank? Let our experienced technicians help you explore your options and make the switch to a heat pump system. Contact us today for more information.
Hybrid Heat Pump Water Heaters
Understanding Heat Pumps
A 'heat pump' is a device that moves heat from one place to another; it works much like an air conditioner or a refrigerator. While a refrigerator moves heat from your fridge to your kitchen, a heat pump water heater (HPWH) moves heat from your home into the hot water tank. When operating a HPWH will dehumidify and air condition your basement.
Hybrid Water Heaters
Hybrid water heaters utilize both a heat pump and electric coils to heat your homes water. Hybrid heat pump water heaters can run in strictly heat pump mode, strictly electric mode or a combination of both. When in hybrid mode a heat pump water heater will automatically cycle between the electric coils and heat pump coils.
Regional Cost Savings
The greatest savings and quickest payback will occur in regions where the average temperatures are colder (i.e. NH). Operating five months out of the year in the heat pump mode where electricity rates are two to three times higher will yield more savings than operating 10 months in the heat pump mode where electricity rates are lower.
Hybrid Heat Pump Water Heater Savings
Water heaters account for 14% to 25% of the total energy consumed in a typical home today. On average, they use more energy than a household's refrigerator, dishwasher, clothes washer and dryer combined. Hybrid heat pump water heaters (HPWHs) are designed to dramatically decrease the cost of operation. In fact, a heat pump water heater can translate into quite significant savings for the homeowner over the course of its lifespan. Just how significant? With up to a 2.75 Energy Factor (EF) rating (compared to an average .87−.92 EF rating of a standard electric model), these innovative water heaters can cut annual operating costs by more than half.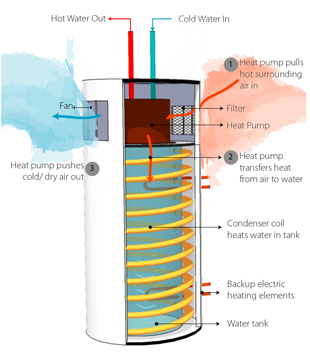 Ideal Heat Pump Water Heater Locations
A heat pump removes heat from ambient air. Hence there must be a considerable volume of air available; most heat pump manufacturers recommend about 750 ft3. Hybrid heat pump water heaters often require larger clearances from walls so that air can circulate properly, and they are often taller and heavier than standard water heaters. Most closets – even closets with louvered doors – are not appropriate for hybrid heat pump water heaters.
Hybrid Water Heater Operating Modes
Various operating modes allow homeowners to choose the mode that best matches their lifestyle and adapt as their needs change.
Efficiency Mode: The most energy-efficient setting works by extracting warmth from the surrounding air, concentrating the heat and transferring it to the water. From an efficiency stand point heat pump mode should not be used when the surrounding air is below 50°F.
Hybrid Mode: This mode uses the heat pump for efficiency, but will use the element for quick recovery following increased hot water usage.
Electric Mode: In Electric Mode, the unit operates as an electric water heater, utilizing the elements only for conditions when limited ambient heat is available.
Vacation Mode: One touch operation maintains tank temperature at 60°F (15.6°C) during vacation or extended absence to reduce operating costs and provide freeze protection.
Major Water Heater Brands
Rinnai Tankless
The innovative design behind Rinnai Tankless Water Heaters provides hot water only when you need it, which saves on your energy bill. What's more, you get an endless supply of hot water and endless comfort. A gas tankless water heater is an efficient appliance that uses a heat exchanger to heat water only when it's needed, which can help you save up to 40% on your energy bill. Call or email us today for a free Rinnai tankless water heater quote.
Rinnai Tankless Water Heater
Rinnai On-Demand Water Heater
Rinnai Gas Water Heater
Rinnai Wall Hung Water Heater
Rinnai Efficiency Water Heater
Rinnai Dealer
State Water Heaters
When it comes to building durability into a product, nobody does it like State. In fact, State tested its water heaters in some of the most hostile environments and under the toughest conditions to make sure they last longer and provide many more years of service. State's components are manufactured to stricter standards and they have developed enamels that flex with extremes of water temperatures to ensure a longer product life.
State Electric Water Heater
State Power Vented Water Heater
State Direct Vent Water Heater
State Gas Water Heater
State Heat Pump Water Heater
State Dealer
Bradford White
Bradford White offers a wide array of both natural gas and LP gas powered water heaters for residential and commercial use. They also have electric water heaters available. These durable water heaters provide years of dependable service and are designed to give you more hot water for the money. Our plumbers are Bradford White water heater experts. We install all types of Bradford White hot water tanks. Call us today for a free quote.
Electric Water Heater
Power Vented Water Heater
Direct Vent Water Heater
Gas Water Heater
Heat Pump Water Heater
Bradford White Dealer
A.O. Smith
Everybody loves a hot shower. We all appreciate the convenience of clean clothes and dishes. What is more enjoyable than a relaxing dip in a hot tub or whirlpool? There's nothing like hot water, and one company has been delivering the world's hot water for more than 70 years . . . A. O. Smith.
A.O. Smith Electric Water Heater
A.O. Smith Power Vented Water Heater
A.O. Smith Direct Vent Water Heater
A.O. Smith Gas Water Heater
A.O. Smith Heat Pump Water Heater
A.O. Smith Dealer
HTP SuperStor
A.J. LeBlanc Heating specializes in the installation of HTP's Superstor indirect water storage tanks. By working with A.J. LeBlanc Heating, you can rest assured that you're receiving the optimal installation or servicing of your Superstor. A.J. LeBlanc Heating will ensure your tank is operating efficiently.
Superstor Indirect Tank
Indirect Hot Water Tank
Boiler Hot Water Tank
Boiler Water Heater
Hot Water Tank
HTP SuperStor Dealer
Navien Tankless
Why choose a Navien Condensing Tankless Water Heater? In a word: Efficiency. You see, Navien utilizes "condensing technology," giving their Water Heaters a 0.97 Energy Factor. Knocking the competition out of the water, these extremely efficient water heaters will provide extra savings for you and your family.
Navien Tankless Water Heater
Navien On-Demand Water Heater
Navien Gas Water Heater
Navien Wall Hung Water Heater
Navien Efficiency Water Heater
Navien Dealer