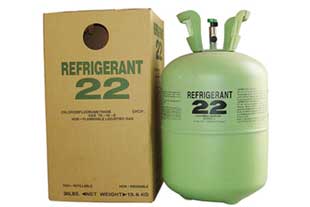 With the arrival of scorching summer days, some homeowners will get a shock when they see the bill to recharge their old air conditioner. The refrigerant that powers their central cooling system, known as R-22, has become a rare and valuable commodity. The price of R-22 has skyrocketed so much that homeowners are stuck with a two costly decisions, repair or replace.
A.J. LeBlanc Heating & A/C still has a significant amount of R-22 in our inventory but our difficultly obtaining more has driven up our prices. The high price is a direct result of a U.S. Environmental Protection Agency's plan to phase out the ozone damaging R-22. The vast majority of AC systems installed in 2009 or earlier use R-22 refrigerant. The EPA mandated a 75 percent cut in the production of R-22 starting in 2010. In 2015, production will fall by 90 percent. And it will stop entirely in 2020.
Most homeowners with new R-22 systems should be fine for a few more years. The tough decisions will be for homeowners with systems more than 10 years old. If an old air conditioner springs a leak, it's likely to be an ongoing problem and a more expensive repair each time as R-22 becomes scarcer.
If your system is 12-15 years old, it will probably be easier to replace it as the system is likely on its way out and is not going to get any better. Refilling an old system is definitely not the solution in the long run. Those who opt for system replacement are not home free either. R410A the industries present refrigerant is not compatible with R-22 so system replacement goes further than just swapping the condenser outside. All system components which had contact with R-22 have to be replaced or in rare scenarios we can flush them out. These complications increase system replacement cost.
For homeowners with R-22 systems which fail but are not leaking it is possible to get a "dry" unit. A dry unit is built to operate on R-22 refrigerant but does not come with the initial R-22 charge as mandated by the EPA. LeBlanc Heating has sold many dry units to customers who have failed R-22 systems without the loss of R-22 refrigerant. This is the most cost effective solution as it is a direct replacement without the need for an expensive system recharge.
If you have a problem with your old air conditioner gives us a call at 603-623-0412 and will guide you through the most cost effective solution whether it is recharge or replacement.