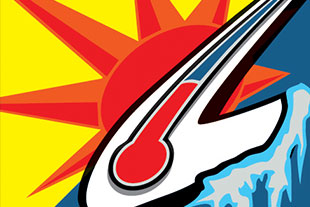 Stuff The Chimney
On average, 14 percent of the air leaking in and out of a house flows through the chimney. If you use your fireplace infrequently, seal it with an inflatable draft stopper.
Stop Drips
A slow leak of 10 drips per minutes can waste 526 gallons of hot water per year. Swapping in a new washer or O-ring is an easy fix, even for a novice DIYer.
Seal HVAC Ducts
Many homes old and new lack the proper seals on duct seams. Between 25 and 40 percent of the hot and cold air entering ducts escapes through joints, seams and gaps. LeBlanc Heating uses aluminum tape designed to meet or exceed insulating standards. Homeowners can buy this tape as well as duct seal to repair duct joints, gaps and holes.
Program The Thermostat
Install an energy star qualified programmable thermostat that automatically adjusts heating and cooling temperatures based on a daily heating or cooling schedule. Every degree beyond your usual set point has a plus or minus 2 percent utility charge associated with it.
Add Humidity
Dry air retains less heat and feels cooler against skin. Increase ambient humidity with a humidifier installation.
Throttle Back Showers
Showers account for 26 percent of a household's hot water usage. Installing a low flow shower head can decrease flow from 3.5 GPM to 1.5 GPM.
Blanket The Water Heater
Insulating your water heater can save you between 4 and 9 percent on water heating related costs. To effectively cut costs the blanket should be at least R-10 or higher.
Upgrade Windows
Installing storm windows can reduce winter heat loss by 29 percent and installing new double-pane windows can reduce loss by 47 percent.
Wrap Pipes
Insulating water pipes allows you to lower the setting of the water heater and reduces wait times and wasted water.