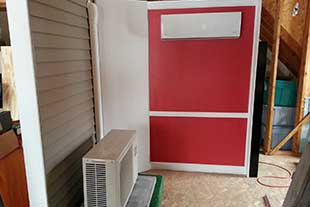 Print free tickets here.
Come see LeBlanc Heating & Air Conditioning at the 2013 NH Home Builders & Remodelers Home Show. This year we will have a mock Fujitsu set up which will display key mini-split components in their actual positions on a home. Also new this year is our Biasi display which will allow us to differentiate our boiler zoning from "the other guys". We will also be displaying our York product line including our York central air conditioning system and a York furnace complete with Aprilaire's humidifier panel.
As always expect to see our Navien and Rinnai set ups and your favorite salesman Jim. The Home Builders & Remodelers Association (HBRANH) was kind enough to give us free tickets which we will be passing on to customers who stop buy, or you may print your own here.
Details
The Spring Home Show will be here on March 1-3, 2013. We have a completely full show again this year with a great selection of products, vendors and attractions. Whether you own or will own a home, condo or apartment - you will find products to improve your space and lifestyle at the show this year!
Our opening ceremonies on Friday at 4:00  with be highlighted by a visit from New Hampshire Governor Maggie Hassen. Please join in in the lobby of our North Hall area.
Show Times:
Friday, March 1th............1:00 P.M. - 8:00 P.M.
Saturday, March 2th........10:00 A.M. - 8:00 P.M.
Sunday, March 3th..........10:00 A.M. - 4:00 P.M.