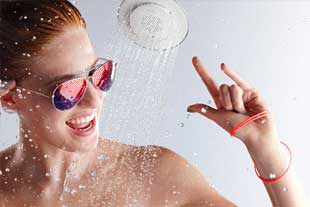 The Kohler Moxie is a new breed of musical shower head that made me skeptical. My first impression had me wondering why some crazed designer at Kohler would possibly think it was a good idea to mix water and electronics. I decided to test this new product and after the first use I couldn't imagine showering without it.
Initially I was left wondering, "what is the point in listening to music in the shower if you have to spend more time syncing the device than you do in the actual shower?" However, this is not the case at all, I have been pairing this Bluetooth shower head to my Android Galaxy S3 and it effortlessly connects every time I press the little blue button on my showers speaker.

I generally listen to iHeart Radio or other radio apps but you can also listen to playlists, albums or individual songs. In fact, the speaker plays whatever your phone, iPod, iPad, or computer is playing at that given point. You might be wondering what happens when your done with your shower. At max volume I can hear my showers speaker - I'm still getting use to saying that - from 30 feet away. This means I can amplify my musical device while I'm getting ready for work. The speaker is also detachable. Held up by a magnet, the homeowner can easily detach and bring the speaker with them to the next room. Due to Moxie's wireless nature one could even take the device outside of their home and use it as a portable, waterproof, speaker, day at the beach anyone?