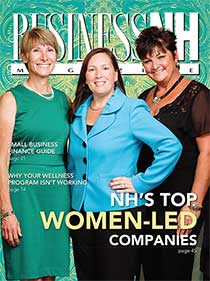 A.J. LeBlanc Heating: A Decade of Recognition as a Top Women-Led Business in New Hampshire
For a decade, Business NH Magazine has been curating an annual list celebrating the formidable power of female leadership in New Hampshire's business sector. A.J. LeBlanc Heating is immensely proud to have been included in this esteemed list of Top Women-Led Businesses in NH for 10 consecutive years, a testament to our unwavering commitment to excellence, growth, and innovation.
A Legacy of Leadership and Excellence
The inclusion in this list is not just an acknowledgment of our company's leadership but also a nod to our relentless pursuit of superior service delivery and the fostering of a work environment that values inclusivity, mentorship, and empowerment. The recognition reaffirms that businesses thrive when leadership is diverse, offering fresh perspectives, strategies, and visions.
A Dual Honor: Celebrating Family and Leadership Together
It's worth noting that A.J. LeBlanc Heating's achievements don't stop at being recognized as a top women-led business. Previously, Business NH Magazine also spotlighted our brand as one of the Top Family Businesses in NH. This dual recognition uniquely positions us as a business that not only values leadership and innovation but also cherishes the foundational principles and traditions that come with being a family enterprise.
Being featured as both a top family business and a leading women-led enterprise speaks to our multifaceted approach to business: merging the time-tested values of a family-run company with the dynamic, forward-thinking vision of contemporary women leadership.
At A.J. LeBlanc Heating, we believe that these accolades, while incredibly rewarding, are also reminders of our responsibility. A responsibility to continue setting industry standards, mentoring the next generation of leaders, and ensuring that our customers always receive top-tier services.
We express our profound gratitude to Business NH Magazine for recognizing our efforts and to our loyal customers for trusting in our services. As we celebrate a decade of recognition, we remain committed to pushing boundaries, championing diversity in leadership, and upholding the values that have made us a mainstay in New Hampshire's business community.