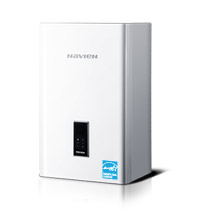 Navien NCB Combi-Boiler
The Navien NCB is the first high efficiency tankless condensing combination boiler with the capacity to supply both heat and domestic hot water for larger homes - enough hydronic heat for a whole house, plus hot water to run two showers and a dishwasher all at the same time.
Over the past 85 years LeBlanc Heating has adapted to meet the needs of the competitive mechanical contractor market. The LeBlanc family once again believes it is time to expand our list of services. Plumbing has been a long time interest for LeBlanc Heating. As we plan to enter the plumbing field we have set guidelines to ensure any addition to our technician family meets our standards for quality. We have begun the application process and are looking for high caliber plumbers who will be able to satisfy our customer's demand for high quality plumbing. Upon completion of our hiring process we will inform our entire customer database of our new products and services. Expect LeBlanc Heating to perform all plumbing related services and installation from bathroom remodeling to water purification systems. New Hampshire will finally have a plumbing outfit which achieves total customer satisfaction!