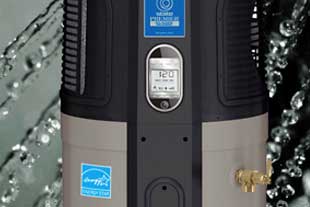 I love the comeback to the above title, why do you need to heat hot water?
All kidding aside; necessity is the mother of invention. Hot water tank manufacturers have made major advances for heating domestic water. Many have heard of or purchased on-demand water heaters, but for those who didn't have natural gas or propane in their home, there were limited options, until now.
Hybrid is a big buzz word these days. The HVAC industry (heating, ventilation, & air conditioning) also has hybrid systems. The system basically consists of a conventional warm air furnace that incorporates a heat pump.  With the high cost of fuel, an electric heat pump can produce cost efficient heat.  Higher efficiency heat pumps will operate down to about 25 degrees (outside) before the fuel burning furnace becomes more efficient. What does this all mean?... Homeowners will subsidize their overall fuel consumption dramatically.  A natural gas furnace and heat pump combination has the least operating cost over both oil & propane.
The oil industry has had problems lately.  It is bad enough that the natural disasters have hurt oil refineries, slowing down production, and that speculators are playing with the pricing, we now have had some contaminates in the fuel that no one has figured out what or how it is getting in the system. Starting in late November through March, from Maine to Connecticut, there have been sporadic outbreaks of fuel oil problems that have many service providers trying to find answers to what is causing it.  There has been a lot of no-heat calls and equipment shut downs due to clogged filters and oil nozzles, faulty oil pumps, and the strangest looking growth formations inside the combustion chambers that many have never seen before.