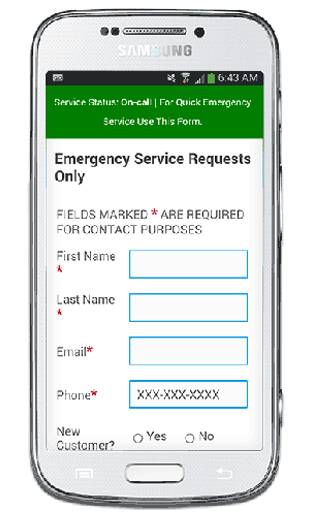 A.J. LeBlanc Heating has just launched it's emergency service contact form. If you require HVAC or Plumbing emergency service just visit our website and click on the red emergency service button located at the top. The emergency service button is the quickest way our customers can get emergency service, there is no hold time, the messages are dispatched to our on-call technicians. The emergency service button will only appear when we are in our "On-call Hours", otherwise you will see a message stating our service status is "Standard" and you can use our normal contact form. Please note that this button and almost all of our websites content is formatted for your mobile device.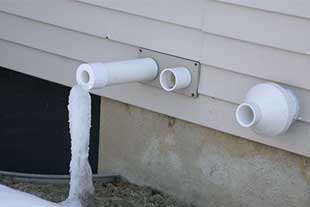 A.J. LeBlanc Heating would like to remind all homeowners to clear all outside vents of snow and debris.This is especially important for direct vented HVAC and plumbing equipment. A blockage of these vents could result in undesirable system operation or even carbon monoxide build up within your home. For your safety we strongly recommend that you take the time to clear all venting systems on the exterior of your home.
Dear Valued Customers,
I would like to take this opportunity to thank you for your trust and confidence in permitting me to take care of your heating needs. It is with mixed emotions that I am announcing my retirement. My retirement comes after 40 years of performing service in the heating field. I wish to express my heartfelt gratitude for your continued patronage throughout my working years.
For the past 28 years, I have dedicated my life to serving you, my customer, with quality service. I have developed many friends through this association. I plan on moving to Florida with my wife to be with my family and enjoy the next stage of my life; Retirement. What will I do? I have plans to golf more, travel, relax and do more community service.
Because I want to be certain that my customers continue to receive the best service available, I have carefully evaluated a number of companies in my industry who were interested in acquiring my business. I wanted a company that is stable with high ethical standard, is trustworthy and has been in business for a long time. I have chosen A. J. LeBlanc Heating, Inc. in Bedford. I believe A. J. LeBlanc Heating possesses the highest qualifications and is extremely well skilled in all phases of heating, air conditioning, and plumbing.
I have personally known the family at LeBlanc Heating for decades. For the past 3 years, I have developed a mutual working relationship. They have covered for me while I was away on vacation and many of you have already been introduced to them either for service needs or installing a new boiler or furnace. Also, many of you have already installed the new Ductless Mini Split Air Conditioning/Heating System resulting in great savings and comfort. I am confident that they will provide you and your family with the best service available. A.J. LeBlanc Heating will be taking over my customer database, equipment and phone number 603-210-1301. They will be contacting you soon.
In closing, I want to thank you for your patronage.
Sincerely,

Jean J. LaBonville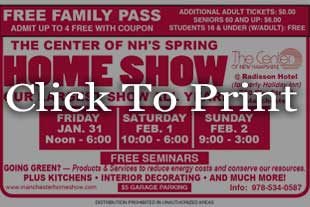 FRI., Jan 31- SUN., Feb, 2 "Northern New England Spring Home Show", Center of New Hampshire Expo Center @ Radisson Hotel, Manchester, NH
Show Hours: Friday, noon-6:00pm; Saturday, 10:00am - 6:00pm; Sunday, 9:00am - 3:00pm
Admission: Admit up to 4 FREE with coupon Additional adult tickets: $8.00; seniors 60 and up: $6.00; students 16 & under (W/ADULT): free
Directions: Take Rt. 93 North to Rt. 293 North near Manchester. After the Brown Ave. exit, stay right as Rt. 293 bears right. Follow 293 to exit 5/ Granite St. Turn Right at the light at bottom of ramp. Go over bridge, and through two lights. Hotel garage will be on the left past the second light.