The acronym HVAC stands for Heating, Ventilating and Air Conditioning. A.J. LeBlanc Heating & Air Conditioning is New Hampshire's premier HVAC contractor.
Concealed Fujitsu installation in Hudson, NH 03051
LeBlanc Heating recently installed this concealed Fujitsu unit in a Hudson NH home. The system is comprised of three concealed Fujitsu units like the one seen below. Each system acts as its own zone of air conditioning and heat. The systems duct work is properly sized and is insulated with R8 HVAC bubble wrapped so this lucky homeowner can expect to see energy savings in no time!

Below is a picture of the Fujitsu systems main distribution box. This box allows multiple zones of heating and cooling to be controlled by one outside condenser.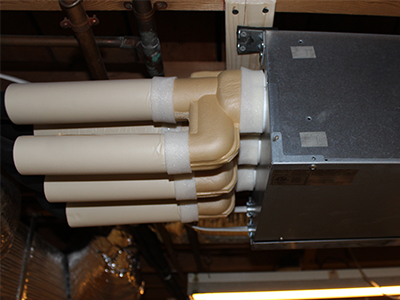 About Fujitsu Halcyon
A Halcyon Hybrid Flex Inverter (HFI) system allows you to connect up to 8 indoor units to one outdoor condensing unit, creating 8 individual zones of comfort.  HFI provides both heating and cooling for year-round comfort.  Choose from three indoor unit styles - wall mounted, cassette and slim duct - to best match your decor.  A Central Remote Control allows you to control all of the indoor units from one keypad. Read more here.