Dear Valued Customers,
I would like to take this opportunity to thank you for your trust and confidence in permitting me to take care of your heating needs. It is with mixed emotions that I am announcing my retirement. My retirement comes after 40 years of performing service in the heating field. I wish to express my heartfelt gratitude for your continued patronage throughout my working years.
For the past 28 years, I have dedicated my life to serving you, my customer, with quality service. I have developed many friends through this association. I plan on moving to Florida with my wife to be with my family and enjoy the next stage of my life; Retirement. What will I do? I have plans to golf more, travel, relax and do more community service.
Because I want to be certain that my customers continue to receive the best service available, I have carefully evaluated a number of companies in my industry who were interested in acquiring my business. I wanted a company that is stable with high ethical standard, is trustworthy and has been in business for a long time. I have chosen A. J. LeBlanc Heating, Inc. in Bedford. I believe A. J. LeBlanc Heating possesses the highest qualifications and is extremely well skilled in all phases of heating, air conditioning, and plumbing.
I have personally known the family at LeBlanc Heating for decades. For the past 3 years, I have developed a mutual working relationship. They have covered for me while I was away on vacation and many of you have already been introduced to them either for service needs or installing a new boiler or furnace. Also, many of you have already installed the new Ductless Mini Split Air Conditioning/Heating System resulting in great savings and comfort. I am confident that they will provide you and your family with the best service available. A.J. LeBlanc Heating will be taking over my customer database, equipment and phone number 603-210-1301. They will be contacting you soon.
In closing, I want to thank you for your patronage.
Sincerely,

Jean J. LaBonville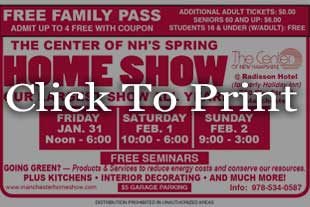 FRI., Jan 31- SUN., Feb, 2 "Northern New England Spring Home Show", Center of New Hampshire Expo Center @ Radisson Hotel, Manchester, NH
Show Hours: Friday, noon-6:00pm; Saturday, 10:00am - 6:00pm; Sunday, 9:00am - 3:00pm
Admission: Admit up to 4 FREE with coupon Additional adult tickets: $8.00; seniors 60 and up: $6.00; students 16 & under (W/ADULT): free
Directions: Take Rt. 93 North to Rt. 293 North near Manchester. After the Brown Ave. exit, stay right as Rt. 293 bears right. Follow 293 to exit 5/ Granite St. Turn Right at the light at bottom of ramp. Go over bridge, and through two lights. Hotel garage will be on the left past the second light.